Cork Wood Floor Installations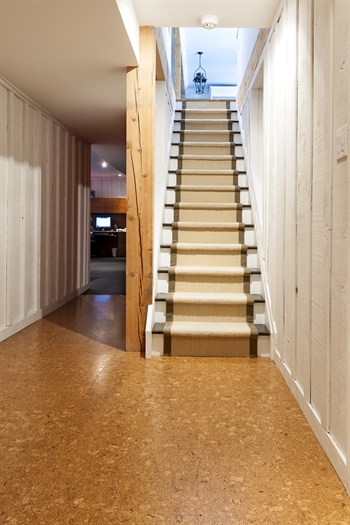 Cork is becoming a very popular flooring material for residential applications over the last few years because of it's tendency to be a very forgiving flooring material.  It can resist scratches and abrasion much better than other flooring materials because of corks natural tendency to "give".
Much like the pliability of the cork in a bottle of wine, a cork floor essentially acts the same way.  It squishes slightly under pressure.  This quality has also made cork flooring an attractive option for businesses, especially offices where people may be on their feet for most of the day.
The natural cushioning a cork floor can provide is much more comfortable to stand and work on.  Another great quality of a cork floor is the sound deadening capabilities it offers and makes a great flooring material for offices and professional spaces.
J & J Wood Floors is a flooring contractor based out of Auburn, California.  We specialize in the sales and installation of cork flooring systems for both residential and commercial applications.  If you have questions about a cork floor we have experts at J & J Wood Floors who can help.
Cork Flooring Installations Placer and Nevada County CA
Cork Flooring Installations
Cork Flooring Sanding and Refinishing
Cork Flooring for Residential
Cork Flooring for Commercial
Sub-floor Preparation for Cork Flooring
Cork Flooring Is Environmentally Friendly 
It's not a mystery that hardwood flooring has to come from a tree.  Sadly, many hardwood flooring types, especially the exotic woods are not always the most renewable.  Cork flooring is slightly different in the way it is harvested.
The bark harvest of the "Cork Oak" tree is strictly regulated and the harvest is limited to nine-year cycles. The cork oaks must be at least 20- 25 years old before the bark will be harvested. Harvested by hand the removal of the cork oak bark doesn't kill the tree.  Instead it grows back and can be harvested again.
If you want to have a Cork Flooring installed or refinished in your home or office then give J & J Wood Floors a call today and we'd be happy to provide you with an estimate.