Kitchen Wood Floor Installations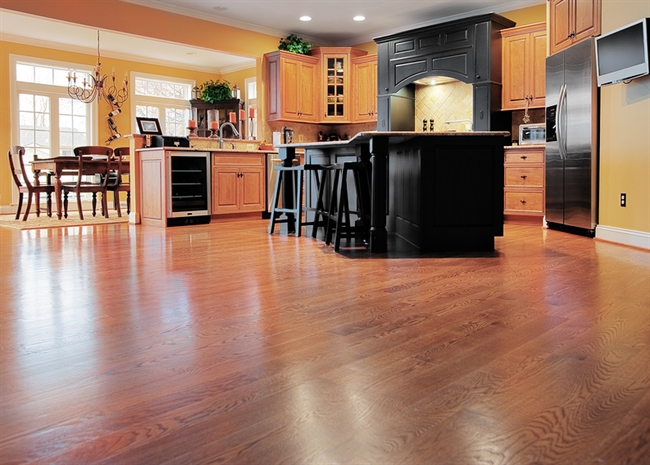 Do you want a rich and elegant looking kitchen?  Maybe you like antique and rustic?  The good news is, with hardwood flooring in your kitchen you can get the best of both worlds.  From a beautifully finished oak hardwood floor to a handscraped antique style hardwood floor there are many styles and stain colors to choose from.
Because of it's looks and durability hardwood has become a popular flooring choice for California kitchens but does require a little bit more maintenance than say a laminate or vinyl floor.  In the kitchen your floor will be exposed to heavy foot traffic, liquid spills, cutlery being dropped on the floor, plates being dropped on the floor and who knows what other kitchen accidents might occur if you have kids or pets!  Hardwood can withstand this abuse, but you'll need to make sure you choose the hardwood carefully and take care of it.
Which Hardwood Flooring Is Best For My Kitchen?
Hardwood flooring is a natural material.  To work properly and (not get damaged) it must be able to breathe.  Your new hardwood floor will require some care, but it's not incredibly demanding and when cared for properly will offer you an elegant, warm and cozy floor for many years.
For kitchens the best type of hardwood flooring is generally the hardest hardwood species you can find.  The "Janka Hardness Test" is the industry standard for determining the hardness of a hardwood flooring material.  The Janka hardness test measures the force required to embed a .444-inch steel ball to half its diameter in a given species of hardwood. It is one of the best measures of the ability of a hardwood species to withstand denting and wear from constant abuse.  Ideally you want a kitchen floor with a high Janka rating.
Oak flooring is a popular domestic species for kitchen floors.  It has a beautiful grain and texture and is a very hardwood capable of withstanding the abuse in your kitchen.  Regardless of hardwood species another popular choice for the kitchen is a "handscraped" floor.  The handscraped wood flooring looks more rustic and rough and works very well to hide small dents, scratches or knicks that will occur.
Best Hardwood Species For Kitchen Flooring
Oak Hardwood
Ash Hardwood
Brazilian Cherry
Remember – Water Can Destroy Your Hardwood
One of the most important points to remember about having hardwood flooring in the kitchen is that water damage will destroy your floor.  It's not going to destroy it the moment it touches it, so if you have some liquid spills and clean them up quickly you will be OK.  However, if you have a plumbing failure like an under sink water filter leaking or a dishwasher leak and the water is left standing for a period of time there is a good chance it will warp and destroy the flooring.  Just something to keep in mind.
Why Choose J & J Wood Floors To Install Hardwood In Your Kitchen?
When you choose J & J Wood Floors to prepare and install the hardwood flooring into your home or business you are partnering with a team of flooring professionals.  We've installed hundreds of thousands of square feet of hardwood flooring in both residential and commercial projects.  Our experience in the hardwood flooring industry is unmatched as our flooring craftsman are able to offer their special expertise and finely detailed installations.  If you want a beautiful hardwood floor then give J & J Wood Floors a call today.