Living Room Wood Floor Installations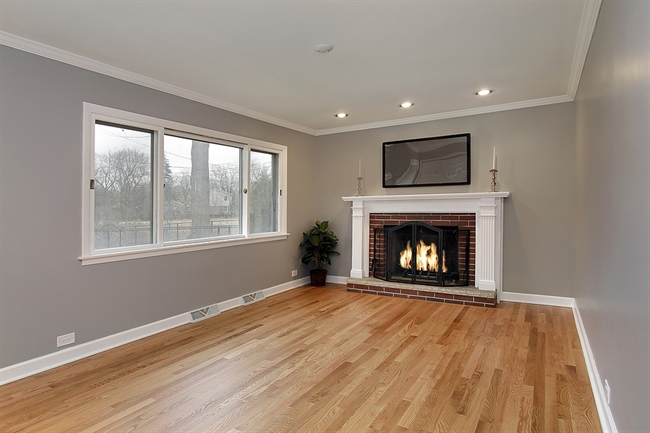 New Living Room Or Family Room Flooring
Whether you call it a living room or your family one thing is certain and that it's a hub of activity in your home.  From entertaining friends, to kids watching TV and playing video games, pets running through, and more.  If you're looking at replacing your living room or family room flooring you need to make sure it's a durable product.  Hardwood flooring is usually the top choice for homeowners looking to replace their living room floor.
Why Do You Want To Replace Your Living Room Flooring?
Do you have old, out-of-style carpeting you'd like to replace?
Do you have old vinyl flooring you'd like to replace?
Do you have existing hardwood you'd like to refinish?
Do you have a laminate floor that is looking worse for wear?
J & J Wood Floors carries a large selection of domestic and exotic species of hardwood flooring in both pre-finished and unfinished materials to fit your living room flooring needs.  We sell and install name brand manufacturers and only high quality materials. When you purchase the right flooring products for your space along with a professional and high-quality installation you are assuring that your new hardwood flooring should last a very long time.
Living Room Flooring Installations
Sub-Floor Preparation and Repairs
Old Flooring Removal (carpet, tile, vinyl)
Hardwood Flooring Installations
Oak Hardwood Flooring
Mahogany Hardwood Flooring
Bamboo Hardwood Flooring
Engineered Hardwood Flooring
Laminate Flooring
Why Choose J & J Wood Floors For Your Living Room Flooring?
When you choose J & J Wood Floors to prepare and install the hardwood flooring in your living room or family room you are partnering with a team of flooring professionals.  You can view the various flooring products in our showroom, take home some samples, or let us guide you in the right direction based on our years of experience and the current trends we're seeing in residential flooring choices.
We've installed hundreds of thousands of square feet of hardwood flooring in both residential and commercial projects.  Our experience in the hardwood flooring industry is unmatched as our flooring craftsman are able to offer their special expertise and finely detailed installations.  If you want a beautiful new floor in your living room then give J & J Wood Floors a call today.