Walnut Wood Floor Installations
Walnut Hardwood Flooring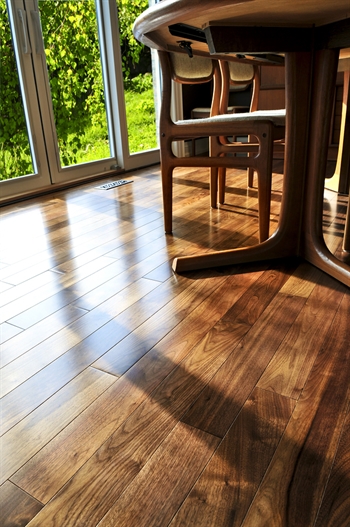 Black walnut is a great choice in hardwood flooring with beautiful grain patterns and rich dark hues, if cut close to a branch walnut often displays a very burly and unique grain pattern.  Black walnut flooring is considered a luxury flooring choice and is great for living rooms, kitchens, or bedrooms.
As walnut flooring ages it develops a beautiful patina and it can either be refinished or left alone for a more rustic look.  It's a very stable wood, meaning that walnut flooring can be used in areas with higher humidity.  Walnut flooring has a score of 1010 with the Janka hardness scale (the test to determine wood flooring hardness) making it a middle of the range hardwood choice for it's durability.
J & J Wood Floors carries a large selection of walnut hardwood and engineered hardwood flooring in both pre-finished and unfinished materials to fit your specific flooring needs.  If you're considering the installation of black walnut flooring in your home or building we have samples in our showroom and can show you several different options.
Walnut Flooring Is Available In
Solid hardwood flooring
Engineered hardwood flooring
Laminate (walnut look alike) flooring
When you choose J & J Wood Floors to prepare and install your walnut hardwood flooring in your home or business you are partnering with a team of flooring professionals.  We've installed hundreds of thousands of square feet of hardwood flooring in both residential and commercial projects.
Our experience in the hardwood flooring industry is unmatched as our flooring craftsman are able to offer their special expertise and finely detailed installations.  If you want a beautiful hardwood floor then give J & J Wood Floors a call today.