5 Things You Should Know About Refinishing Your Hardwood Floor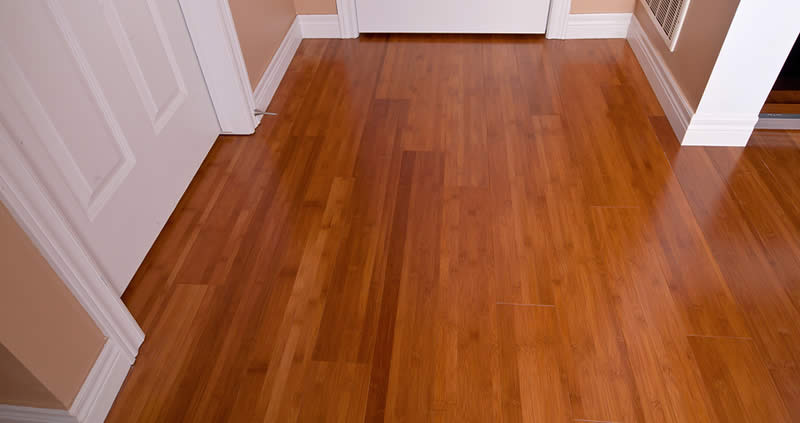 So you're ready to refinish your hardwood floors?  Hardwood flooring is a luxury flooring material that can enhance the look of any home interior.  However, with the foot traffic from your family, your pets, moving furniture around, and just general wear and tear they can begin to get scratched, it will develop small knicks and gouges, and will begin to look dull and faded.  The great part about hardwood flooring is that it can be refinished.  The flooring can be sanded down to expose a new surface and then be re-stained so the flooring looks like new again.
#1.  Can't You Just Do It Yourself?
Yes, it's certainly a project you can do yourself but the question is… Do you really want to?  If you only have a small section of wood floor to refinish like a small entry way for example then maybe it might be a more economical choice to do it on your own.  It's going to take some special equipment, lots of your time, and quite a bit of research to make sure you're doing every thing right so you don't have to redo it all over again.  You won't want to, trust us.
Equipment You'll Need:
Dust masks, not the paper type.  You'll need a proper respirator.
Floor sander, preferably a dustless model if you don't a giant mess.
Sanding discs for the floor sander of the proper grit.
Plastic sheeting to mask off areas you don't want dust.
Proper, high quality flooring stain.
Paint brushes or rollers to apply the stain.
If you don't have all the equipment and supplies needed, you'll be renting the equipment and buying the supplies.  By the time you're done renting equipment and driving back and forth, buying all of the supplies, and actually spending the time/labor to do it you'll probably wish you'd just called a professional right from the start.
If you still insist on tackling the project yourself and you get partway through and end up waving the white flag and calling a professional they likely won't want to take over where you left off…  They will probably have to redo the entire job, rendering all of the time and money you spent a complete waste chalked up to a learning experience.  It wouldn't be the first time.
#2. You've Decided To Hire A Professional? Choose A Contractor With Experience!
Wood floor refinishing isn't rocket science, but at the same time, it's not exactly easy either.  With so many different types of wood flooring and wood floor refinishing products on the market there is actually a lot to know if you want the refinishing job to A: look good and B: last a long time.  Taking the time to choose your wood floor refinishing company carefully will ensure you get a much better, long-lasting result.
Do they have experience with your specific species of wood flooring?
Do they own their equipment or will they be renting it?
Are they good communicators and answer your questions in a timely manner?
Do they move the furniture or will you be responsible for that?
Do they mask off any areas to protect from dust or stain?
Do they have a track record of happy customers?
These are just a few questions you can ask to get a feel for the contractor.  Don't just base your decision on price alone, as there are many details that go into an excellent refinishing job and if you're going to compare quotes you want to make sure that you're comparing apples-to-apples.
#3.  Can Your Wood Floor Even Be Refinished?
Hardwood floors can only be refinished a few times in their life and that really depends on how thick the flooring is to begin with.  If the floors are decades old they may have already been refinished several times.  If you've just purchased the home, or maybe you've ripped up an existing floor like carpeting only to find hardwood underneath, chances are you won't know the history of the flooring.  A good wood floor refinishing contractor will be able to tell you more about the floor and if it's a suitable candidate to be refinished.
#4.  What Do They Use For Dust Control?
Sanding a hardwood floor with a commercial sander creates a ton of wood dust.  If the flooring already has an existing stain on it that wood dust is contaminated with harmful chemicals and is horrible stuff to be breathing in, it's actually carcinogenic.  Not to mention the dust will find it's way into every corner of your house making a big mess for someone to clean up later.
Choose a wood floor refinishing contractor that has dustless and filtered floor sanding machines.  These sanders suck the dust up and contain it, while filtering the air that is exhausted.  This will greatly reduce (but not always eliminate) the harmful wood dust that will be floating around your home.
#5.  What Type Of Finish Will You (Or your Contractor) Be Applying?
There are many different types of wood floor finishes that can be used depending on what you'd like to do and many different brands that sell them.  As professionals we've had experience with many of the products and will be able to recommend the product we feel will be the best for your floor.
There are four primary types of wood floor refinishing products:
Water-based
Polyurethane
Acid cured
Vegetable oil based (zero VOC) read more here
Each type has it's specific pros and cons.  Water based finishes are generally less expensive and they don't produce the same harmful fumes as a polyurethane finish but they aren't the most durable choice.  Polyurethane is the most popular type of finish and provides a durable finish with little hassle but the VOCS (volatile organic compounds) can be dangerous and uncomfortable to breathe in.  And acid cured finishes are the most durable but they are also the most difficult to apply and also pose a health risk.
Vegetable oil based wood floor finishes are a relatively new product in America but quite common in Europe.  They are the least harmful product as far as fumes go but they do take the most amount of skill and knowledge to properly apply.
After you've chosen the type of finishing product to use then you'll need to choose the level of sheen.  Do you want dull looking floors?  Semi-gloss?  Gloss?  Or do you want them to be so shiny that you can see your reflection in the floor?  These are more personal choices and a good floor refinishing contractor will usually apply a few different samples to your floor so you can see the difference between each level of sheen or the various stain colors and tints too.
J & J Wood Floors Offers Expert Wood Floor Refinishing Services
J & J Wood Floors is a flooring company with over 20 years experience refinishing hardwood floors of all sizes in both residential and commercial working environments.  We have our own wood flooring showroom located in Auburn, California where we are happy to provide you with the knowledge, expertise, and products to refinish your wood floors on your own.
If you've decided you'd just like to turn this project over to the professionals we offer "turn-key" wood floor refinishing services as well so you don't have to lift a finger and we'll refinish your wood flooring to a like new condition ready for many years of use.  We provide our services within Placer County, California.
If you'd like to schedule an appointment to discuss your wood floor refinishing project please give us a call or fill out our contact form and we'd be happy to discuss it with you.