Understanding Your Hardwood Flooring Estimate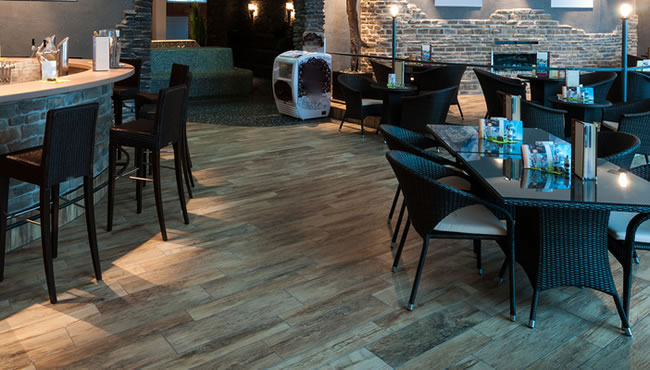 Are you looking into the cost of hardwood or laminate flooring for your home or business?  Consumers are often surprised at the cost of hiring professional flooring contractors to finish their projects.  Is the flooring contractor charging too much for their services or is there more to the story?
To make the problem much worse, there are many handymen masquerading as professional flooring contractors, that probably shouldn't be.  This article will share a little more insight with you on what is actually involved on the part of the flooring contractor.
Professional Flooring Contractors Use Contracts and Written Work Orders
Have you ever received a bid for a home improvement project or maybe an improvement to commercial space that was scratched out onto a piece of paper? Was the scope of work involved and flooring materials list pretty vague or incomplete? Did they even mention anything about the condition of your subfloor? (we'll touch on this later).  Professional contractors who specialize in flooring don't do this.
When a professional flooring contractor provides you with their estimate to install new flooring for you it will likely be on company letterhead, and could possibly be more than one just page. You'll receive a thorough description of the work involved, the complete list of materials being used and any and all special requests you've asked for in writing.
Having a written contract and description of the work being performed protects both parties. It's not cheap however to have proper paperwork drafted by a legal professional and it's also very time consuming to prepare.
From the moment a flooring contractor takes on your bid and wants to provide an estimate for your project they must assume they've already got the job and start planning accordingly to give you the most accurate estimate possible. This process can sometimes take several hours depending on the size of your project. This is time a professional deserves to be compensated for.
If your flooring estimate looks professional, it's a good first indication that the contractor behind it might be professional too. If you received your estimate on a napkin, with a handwritten quote and many misspelled words, it might be a clue to keep looking for another contractor to work on your floor.
Professional Flooring Contractors Are Licensed and Insured
Licensing and proper insurance both for employees and the projects a contractor  works on are very expensive business costs we must pay as professionals. You'd think this would be obvious but make sure the flooring estimate you've received has come from a licensed and insured contractor. Believe it or not, many "contractors" in California have neither. What if the contractor accidentally damages your property?
Do you think that an unprofessional fly by night contractor will be equipped to handle that situation financially? It's unlikely.
Your estimate from a professional flooring contractor will probably mention the fact they are licensed and insured to do business in your area.
Professional Flooring Contractors Use High Quality Products
There are many different grades of hardwood and laminate flooring from many different flooring manufacturers. They are not all created equal. This is why professional flooring contractors work with proven brands from flooring manufacturers that have a solid reputation and stay on the cutting edge of flooring technology. We'll tell you exactly what brands and specific flooring materials we're using for your project. Some contractors will tell you that you're getting high quality flooring but is it really they are installing?
With flooring prices fluctuating and often changing (both up and down) it's a good idea to star thinking about a budget that you'd like to spend.  With hardwoods ranging from a few dollars a square foot to $10 or more per square foot the price of your materials is going to be a good majority of your project expense.  And that's not even the half of it!
Do you know what type of hardwood flooring you want?  Do you even want hardwood?  Maybe you'd like a laminate floor, or an engineered hardwood?  Inside those groups are hundreds if not thousands of more color, style and grain possibilities.  These choices will all affect the final price of your floor.  If you have exotic tastes, the estimate might be larger than if you'd chosen a laminate that could be installed for less than $3.00 a square foot.
Does Your Project Involve Subfloor Preparation?
There are many flooring contractors who would happily provide you an estimate without ever even mentioning the word subfloor.  The subfloor is just as it sounds, the subsurface of your floor.  In most homes and commercial spaces the subfloor is either concrete or plywood.  Both types of subfloors need to be finished so they are perfectly level or very close.  If the subfloor isn't finished correctly you'll have high spots and low spots in your floor, you may have stressed joints where there is too much pressure, creating small ridges in the flooring.  Concrete subfloors are notorious for not being finished correctly which results in a nightmare for the home or building owner as they'll never be satisfied with their floor until the subfloor is repaired.
When you get an estimate from a contractor to do your flooring make sure you discuss the subfloor, it's condition and what will or won't need to be completed before laying down your hardwood or laminate floor.  On some projects there might be more time required on preparing or repairing the subfloor then on actually installing the floor, just make sure it's absolutely necessary.
Professional Flooring Contractors Offer A Written Warranty
This is an important one and it's a little bit deceiving because while some contractors will offer a warranty, they might not ever be around to service it! This is especially so with the lowest bids on any given project.  These flooring contractors usually under value their time because they need the next dollar quick. It's not a guarantee that they'll be around in a year to fix the gaps in your flooring, missing trim pieces or other various issues that can arise.
A professional flooring contractor will offer you a rock solid warranty, in writing and while that's still not a guarantee you'll just have to look at the contractors reputation, the length of time they've been in business and how they conduct themselves to make that determination for yourself.  If your warranty information is clearly detailed and explained on the estimate you've received then it's a good sign.  A professional flooring contractor will be able to provide you with the necessary documentation for any warranty that the flooring manufacturer might provide as well.
Who Installs Flooring in Green Valley, CA?
J & J Wood Floors is a full service flooring contractor serving Nevada County, CA and the Grass Valley CA area.  We specialize in the sales and installation of hardwood and laminate flooring in both residential or commercial settings.  Our flooring craftsman can help you install new flooring in your new construction projects or remodeling projects or even refinish your existing hardwood.