Engineered Wood Installations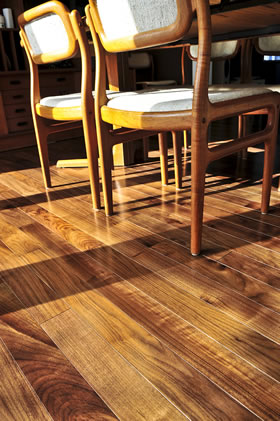 New Engineered flooring is a great choice for the home or business owner looking for that perfect balance between the elegance of hardwood, and the affordability of a material like laminate.
Engineered Flooring has an actual hardwood surface to give you the appearance you desire but is backed with usually 3 or 4 layers of plywood or HDF (high density fiber) underneath. The surface of your floor will still be real genuine hardwood and have the look and feel you love.  Another benefit to an Engineered hardwood floor is that it can be refinished usually 1-3 times, depending on the thickness of the surface layer of hardwood.
J & J Wood Floors is a specialist flooring contractor with a showroom located in Auburn, CA.  We specialize in engineered hardwood flooring installations.  In addition to being more affordable than solid wood floors, engineered flooring is also a more environmentally friendly choice for your flooring. Engineered flooring uses significantly less wood than hardwood flooring, as much as 3 or 4 times less. If you want the elegance of hardwood, but favor a lower environmental impact, then engineered flooring becomes an obvious choice.
Engineered Flooring Installations Placer and Nevada County CA
Engineered Flooring Installations
Engineered Flooring Subfloor Preparation
Engineered Hardwood Floor Refinishing
Great for all areas of your home, engineered flooring can also be installed in high moisture areas of your home, like the basement or on any concrete subfloor.  Engineered flooring comes in a wide variety of species, colors, and applications; in prefinished or unfinished; glued down or floating materials.
J & J Wood Floors has many Engineered Flooring samples and our flooring professionals would be happy to answer your questions, and offer recommendations based on your budget and particular application.  We want to help you get a beautiful floor!